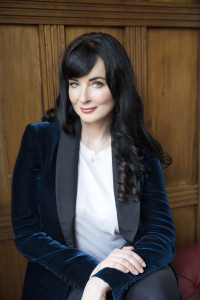 Vania Bailey is one of New Zealand's top makeup artists, regularly working with some of the country's most gifted and talented photographers, top broadcasters and fashion designers, as well as for a large number of bridal parties in the Hawke's Bay region. She is also an eyebrow expert, offering the latest innovation in semi-permanent makeup, 3D Eyebrow Embroidery (Microblading).
As a child, Vania had an avid interest in art, and could be found with a paintbrush or makeup brush in her hand at all times. After completing a university arts degree, Vania pursued a career in the cosmetics industry. She went on to work for TVNZ on television shows including Xena and Hercules, as well as for luxury cosmetics brand Christian Dior where she received the prestigious "Dior Makeup Artist of the Year" award.
Vania now resides in Hawke's Bay where she has gained a reputation as a bride's best friend, offering her makeup services to the region's many bridal parties. She also works as a freelance makeup artist and stylist for photographers, fashion designers, editorials and newspapers.
---
Testimonials
---
"When I look at a Make-up Artist's work, first and foremost I look for creativity, Vania is someone who can think outside of the box. Vania is able to look at a face and see what not to do, how much makeup not to apply.

As a commercial, portrait and fashion photographer, I am always interested in the geography of the face and also peoples so-called flaws are often the most interesting things about them. I would never want to hide any of that.

A Make-up Artist should always look for inspiration anywhere and everywhere, and not just their immediate realm. Vania Bailey does exactly that, she is never complacent."


Photographer Richard Brimmer
"I've been fortunate to have known Vania Bailey for some years and when it comes to requiring a make-up professional for any special event I'm a huge fan. She's the best there is.
She has a large range of products and she has an efficient, hygienic technique.
Nothing is ever impossible, she leaps into every job with energy and creativity, and as a client she has a gift for making you feel relaxed and taken care of.

She's a talent, she's a consummate professional and she's someone you need to know."


Yvonne Lorkin Owner/Executive Producer Thirsty Media Television Production
"Vania has a beautifully natural style while also knowing how to give my brides the right amount of coverage to last through a long and often hot wedding day. She's good at listening to what her girls want and adapting her style to suit, so that the barely-there bride and the sultry smokey eye bride all step in front of my camera looking flawless."


Eva Bradley
"I have known Vania since early 2010 when I hired her to apply make-up for myself and my bridal party for my wedding.

Vania takes her work very seriously and this is portrayed in not only her make-up artistry but in the manner in which she conducts herself. She is professional yet approachable and I found her to be a very calming influence on my wedding day! Her passion for make-up and fashion is obvious and this is reflected in both her work and her personal appearance.

My position as Events Manager at Church Road Winery requires me to provide recommendations" on a range of suppliers, including make-up artist, for brides who have booked their wedding with Church Road.

I have absolutely no hesitation in recommending Vania as a make-up artist to brides to be and have always received fantastic feedback from those that have dealt with her."


Melanie Johnson - Event Manager - Church Road Winery
"Kia ora e hoa ma! I'm Lil and it's with great pride and confidence that I recommend Vania Bailey. I travel from Gisborne to see Vania I and I've been a client for at least 2 years. My 65 year old Aunty is now a client too and she loves her youthful, ooh lah lah eyebrows and the compliments that she receives.

Initially I was apprehensive about having my eyebrows microbladed but I was impressed with Vania's comprehensive website and facebook page, her client reviews, the before and after shots of clients and Vania's impressive repertoire of skills. Within minutes of meeting Vania, I felt completely at ease and confident that I had made the right choice. She listened to what I wanted, showed great attention to detail, found the perfect ink shade to enhance my skin tone and achieve the natural brow look that I wanted. She was very methodical and fastidious and demonstrated exceptional expertise in her craft.

Vania creates a positive and relaxing environment, while remaining meticulous with regards to health and safety guidelines. She is very calm and optimistic. She naturally generates an empowering relationship with her customers. I leave her salon feeling strong, confident, invigorated and gorgeous.

I trust and regard Vania as a friend. She is a friend that I admire and respect and I know that my Aunty and I will continue to embark on our yearly road trip to the Bay, to see Vania for our annual Eyebrow Warrant of Fitness, with great excitement and anticipation. He tino pai rawa atu!"

Lil Rangihuna-Aupouri - Kind words from a loyal client who returns once a year for her annual colour top up. Not only does she look good but she feels fabulous
"I'm emailing to Thank You for the wonderful Eyebrow Enhancement procedure I recently had with you.

I am absolutely delighted with the beautiful shape, stunning colour and new found confidence I have looking in the mirror at myself.

I had shied away from swimming over the past few years, knowing that the eyebrow pencil would come off and exercising in the summer made me very self conscious, sweating off the eyebrow pencil!!! No more!!!

You are very professional, efficient, informative and Gorgeous as well!! I look forward to seeing you soon for my eyeliner procedure.

I highly recommend You to anyone looking to have any of your procedures and I'm sure they will be as extremely delighted with the end result, as I am."

Shirin Wood